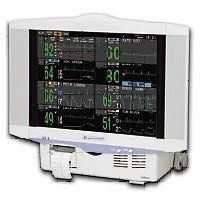 The Need
Internal Medicine wards are notoriously the most crowded in all hospitals. Nurses working these wards are beset every minute by patient needs. The necessity for keeping a watchful eye on the cardiac condition of the patients takes up a significant portion of the nurse's time.
Solution
The 8-patient telemetry cardiac monitor enables the duty nurse to watch the vita of up to 8 patients from a single station.
Description of Equipment/Project
The Nihon Kohden telemetry monitor is particularly nurse-oriented. It has five types of alarm notification to help ensure that caregivers do not miss alarms. It has the highest quality of arrhythmia detection and, importantly, data storage for 96 hours of full disclosure ECG for all patients, including arrhythmia recall and alarm history.
Cost
Nihon Kohden 8-patient telemetry monitor, Model WEP-5208 – $24,585