For the first time in Israel, surgery to treat the rare Osler-Weber-Rendu Disease was performed on 77 year old patient Edward Balon, at Galilee Medical Center, under the auspices of the Otolaryngology (Ear, Nose and Throat) Department. Dr. Tal Marshak, Senior Surgeon and Head of Rhinology & Skull Base Surgery, in cooperation with Dr. Eitan Sudri, Director of Nasal, Sinus and Skull Base Surgery at Beilinson Hospital in Petach Tikva, performed the life-saving surgery, which took over two and a half hours.
Osler-Weber-Rendu Syndrome is a rare autosomal dominant genetic disorder that affects blood vessels throughout the body causing vascular dysplasia and results in a tendency for bleeding. The genetically-based syndrome leads to abnormal blood vessel formation in the skin, mucous membranes, and often in organs such as the lungs, liver, and brain. It may lead to nosebleeds, acute and chronic digestive tract bleeding, and various problems due to the involvement of other organs. Treatment focuses on reducing bleeding from blood vessel lesions, and sometimes surgery or other targeted interventions to remove arteriovenous malformations in organs. Chronic bleeding often requires iron supplements and sometimes, blood transfusions.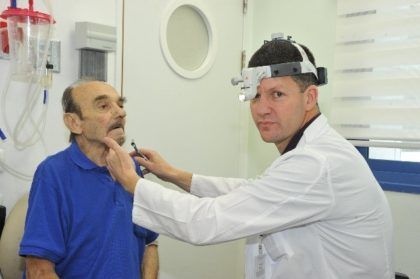 The patient, Edward Balon from Nahariya, made aliyah from the Ukraine four years ago and has been under observation and received follow-up treatment at GMC since his arrival in Israel. Over the years, he suffered from daily bleeding and in the months prior to the surgery, his situation worsened, particularly with increasingly frequent nose bleeds.
He was referred to the ENT Department at GMC and the innovative surgery, including intervention in the blood vessels, was performed for the first time in Israel to treat the bleeding. Up until now, Israeli health care organizations have flown such patients to Germany where an efficient form of surgical intervention was developed and where there is extensive experience in its performance.  
After surgery Mr. Balon's condition greatly improved and the nosebleeds completely stopped. He said, "For so many years it had been awful and I am happy that the bleeding has come to an end. I hope that my condition will continue to improve. I thank Dr. Marshak and the ENT team for the dedicated and professional treatment that I received."
Dr. Marshak explained that "the fact that today there are Israeli surgeons who are capable of performing the surgery in Israel is important for patients who suffer from the disease and are in need of this kind of surgery. The patient was referred to us after his condition deteriorated and he had an especially low hemoglobin level which necessitated two daily blood transfusions. The Hematology Department emphasized to us that without the surgery his condition would further deteriorate. I am happy that the operation was successful, that the patient's condition has improved, and that his hemoglobin level has gone up."
The Otolaryngology, Head & Neck Surgery Department at Galilee Medical Center is considered one of the most advanced in the country and conducts more than 1,500 procedures annually on patients of all ages, by skilled specialists who have undergone advanced training in various fields and utilize sophisticated technologies and minimally invasive techniques