A Note from Zoë Riekes - AFGMC President
I am honored to serve as the President of American Friends of Galilee Medical Center. GMC is the largest hospital in the region, serving a diverse population of residents and as the largest employer in the Western Galilee.
I have had the privilege of working closely with the Galilee Medical Center team, and I have seen firsthand the impact of GMC on the community. Every member of the staff works hard on a daily basis to provide the best possible care not only to patients, but also to show compassion to families and loved ones.
GMC strives to provide the most innovative and effective care, in the best possible facilities they can offer. The support of the community is as important as ever, to provide state of the art facilities and medical care. The new Irving and Cherna Moskowitz Heart Center and a brand new Indoor Playground for pediatric patients are just some examples that have resulted from the generous support of the American Friends of GMC. But, there is still work to be done.
AFGMC supports the mission of Galilee Medical Center, and we hope you will join us, and the growing community of supporters to help ensure GMC remains the top ranked medical center it is today.
The mission of American Friends of Galilee Medical Center is to promote and support the Hospital by broadening its capability to provide the highest quality of medical care and other services to over 650,000 residents living along Israel's northern border.
American Friends of Galilee Medical Center engages individuals and organizations through fundraising, advocacy and volunteer opportunities.
The American Friends of Galilee Medical Center is a tax-exempt organization under section 501(C)3 of the Internal Service Revenue Code; our Federal Tax ID Number is 26-0572473.
Galilee Medical Center: The Next Ten Years
For over 50 years, Galilee Medical Center has provided high-level health services to a diverse community of more than 600,000 people made up of Jews, Muslims, Christians and Druze – and all this while operating in a zone close to hostile borders.  GMC has developed secure infrastructure which has allowed it to operate even under direct missile attack (as in 2006) and has grown significantly in its capacity to provide care to an underserved population suffering from high rates of disease, from diabetes to heart disease, despite having fewer doctors and beds than facilities in other parts of the country.
GMC is doing well…and it is constantly striving to do even better.  The long-term vision developed along with the Friends of the Galilee Medical Center, is to raise funds for a $100,000,000 master development plan (with funds matched by the Ministry of Health) in order to serve its community better, including in times of heightened conflict.
Zoë Riekes, President
Omaha, NE
Alan Engel, Treasurer
Louisville, KY
Barry Badner
Englewood, NJ
Prof. Masad Barhoum
Nahariya, Israel
Bonnie Bloch, MD
Omaha, NE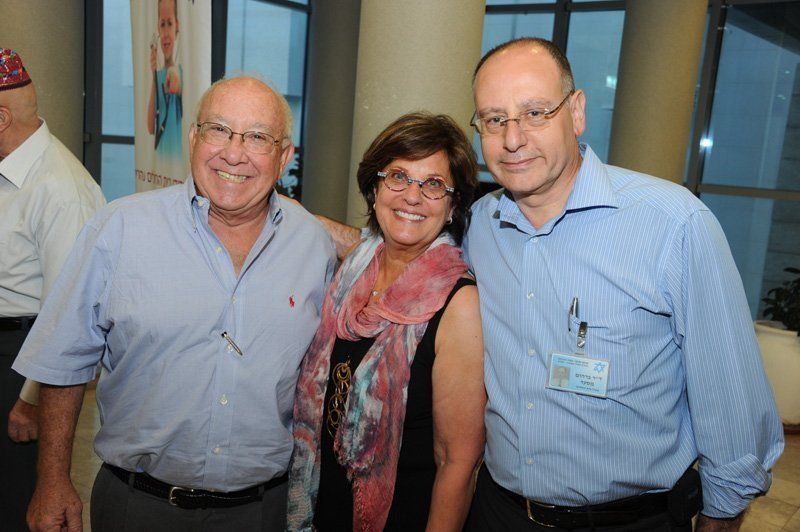 Zoë Riekes, Alan Engel and Dr. Masad Barhoum during a recent visit to GMC
Edward Goodman, MD
Dallas, TX
Michael Illouz
Nahariya, Israel
Michelle Korin
Indianapolis, IN
Mark Lester, MD
Irving, TX