Doctors in the Department of Otolaryngology-Head and Neck Surgery recently performed GMC's first endoscopic ear surgery – a procedure that treats impaired hearing using a much less invasive and lengthy procedure.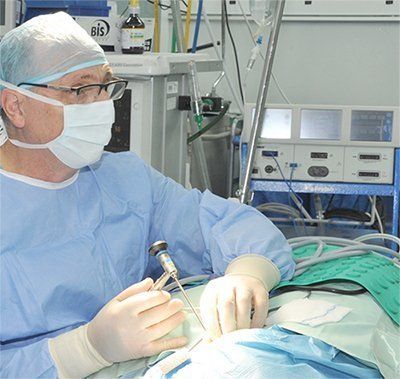 Dr. Vadim Letichevsky, Deputy Director of the department, performed the surgery: "Our patient was a man in his 60's who has suffered for years from hearing impairment. Endoscopic surgery allows us to enter the ear directly rather than making incisions behind the ear, as was previously done. This novel method shortens both the length of surgery and the recovery period."
The endoscopic method improves not only the recovery time but also the precision of the surgical procedure, as the otolaryngologist using an endoscope has a wider field of vision than with a microscope. This method will now be used not only for correcting hearing impairment but also for closure of perforated eardrums; both these procedures are rather common in the elderly population. Furthermore, more complex procedures necessitating the simultaneous use of both microscope and endoscope can now be performed at Galilee Medical Center.
Dr. Eyal Sela, Director of Galilee Medical Center's Department of Otolaryngology-Head and Neck Surgery explained, "We as a department make every effort to be at the forefront of the latest innovations and technologies in otolaryngologic surgery, so that we can offer our patients the best and most advanced care. The state-of-the-art technology and equipment that GMC's administration has acquired allows us to perform the most innovative procedures along with the best medical centers in the world. The new endoscopic procedure provides the patient with mush less discomfort and a quicker return home. An endoscopy team in our department has undergone training in the use of this new technology, and Dr. Vadim recently returned from a leading endoscopy center in Bern Switzerland where he learned endoscopic surgical procedures. We intend to perform these endoscopic procedures on dozens of patient each year in order to improve their quality of life."