AFGMC Board member and long-time Dallas resident A. J. Rosmarin began his leadership role with the Galilee Medical Center in 2010. He made his first visit to GMC as a member of the ERG group of physicians and administrative people like him on the annual trip in 2005.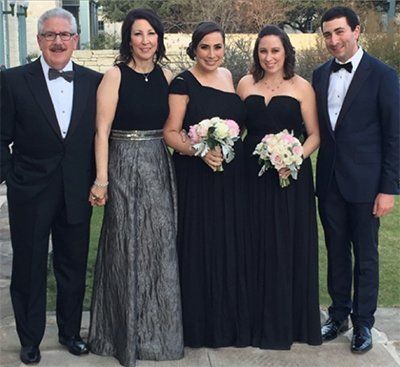 A. J. has been in the healthcare field for 40 years, working in hospitals as a CFO and then in leadership positions with companies as large as IBM, where he was a partner in the consulting practice. For the past 12 years, he has been an advisor to hospitals and physician groups in his own consulting business. But to understand A. J.'s strong commitment as a leader and donor to Galilee Medical Center one must understand Rosmarin's generous spirit and his upbringing. Originally from Louisville, Kentucky, A. J.'s parents are Holocaust survivors who "came over here with nothing and became respected members of the Jewish community in Louisville" and he felt that since he was in a position to be generous, he must do so. "I have always felt that those who can have to step up. There will always be those who can't and those who won't…some people get involved personally, others write checks, and then some folks do both."
A. J. is one of those people who does both in a big way. A.J. and his wife Suellen were gracious hosts for an AFGMC event at their home last year, then helped to facilitate another gathering this year, and otherwise have made major efforts to helped grow the Hospital's circle of friends in North America. A. J. is also motivated by the unique qualities and competitive edge of GMC, "The quality of care they provide to such a diverse population…while having to look over their shoulder to an unappreciative neighbor is pretty amazing," referring to the hospital's location just miles from the border with Lebanon. A. J. puts the magnitude of GMC's services in perspective, "the sheer numbers of people they [GMC] deal with…it's as if you only had two hospitals serving the entire population of Dallas. In Dallas alone, there are six major hospitals who all represent themselves as major medical centers serving a population of about 1.2 million compared to one hospital – GMC – serving 600,000 people. " The high quality of care is another point of pride "The hospital has really stepped up its game. There have been big strides in cardiology and women's care…they are on a higher plane than even five years ago."
Yet A. J. envisions even greater strides for the hospital, specifically to "become the preeminent provider for total services for Northern Israel and to attract even more world class physicians." True to GMC's "People to People" slogan, A. J. recognizes the critical role of people in the Hospital's success, "In the end it's about more than bricks and mortar – it's about the doctors, the nurses, and the leadership that make the difference."
A. J. is deeply-involved in Jewish Philanthropy and other areas where he is committed to adding value. In addition to his role at AFGMC, A. J. is vice-chair of the Board of Trustees of Texas Health Presbyterian Hospital Dallas; an adjunct lecturer on Healthcare issues to MBA Candidates at the University of Louisville; a member of the Board of Directors and an Officer at the Jewish Federation of Greater Dallas; a member of the Board of Directors of Dallas Chapter of AIPAC; and Board of Directors of Temple Emanu-El. A. J. and wife Suellen have two grown daughters and two grandsons.