Dr. Masad Barhoum, Director General of Galilee Medical Center, recently returned from a visit to France where he was the guest of the World Jewish Congress (WJC). Dr. Barhoum attended the opening of an international exhibition at UNESCO Paris headquarters, met with leaders of the Jewish community and was interviewed by leading media sources including the daily newspaper Le Figaro.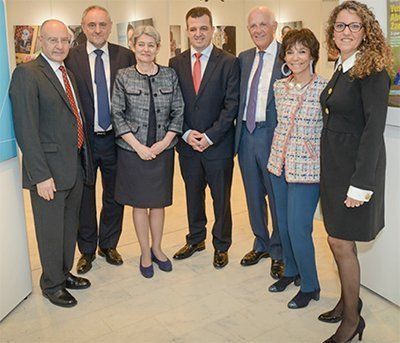 As the guest of the WJC, Dr. Barhoum met with its CEO, Robert Singer, and with Chief Operations Officer Sonia Gomes de Mesquita (formerly the CEO of World ORT). The visit began with the opening of a photography exhibition at UNESCO Paris offices in which photographer Shahar Azran documented the Israeli initiative Education without Borders. This program provides education to children who are hospitalized for more than three days in 35 hospitals throughout Israel, including psychiatric and rehabilitative centers. Known as the SASA Setton Kav Or project, and initiated by philanthropists Phillipe and Hilde Setton, the project is active in 170 in-hospital departments. In Galilee Medical Center, the program is directed by Yael Koppel, principal of the Afik School, which has earned the support of the Ministry of Education. The Afik School aims to help children cope with difficulties during hospitalization by empowering them via special programs that preserve their progress in their educational curriculum, through advanced learning technology. The SASA Setton Kav Or project, unique to Israel, has allowed over 100,000 children to continue their education during their hospitalization period. The opening of the photography exhibition was attended by dozens of ambassadors from many countries, including Carmel Shama-Hacohen, Israel's envoy to the OECD and UNESCO, and Irina Bokova, General-Director of UNESCO.
During his visit to Paris, Dr. Barhoum met with Aliza Bin-Noun, Israel's ambassador to France, who recounted her early life as a child in Nahariya. Dr. Barhoum also received much media attention, including an interview with Le Figaro. The subsequent magazine article describes Dr. Barhoum's dedication to the advancement of medicine in the Galilee, and emphasizes the professional and humane medical care given by the 2,600 employees of Galilee Medical Center to the community of 600,000 residents of northern Israel (click here for a link to the full article in French). In addition, Dr. Barhoum was interviewed by several reporters from the French-Jewish community and for Radio Shalom, in cooperation with the Jewish Federation of France.
Dr Barhoum: "I had the privilege to represent the State of Israel and particularly Galilee Medical Center at several important meetings and events in France. I received an extremely warm welcome from the WJC leaders, including Mr. Robert Singer and Ms. Sonia Gomes de Mesquite. Many people asked me about the religious coexistence that is a way of life in the Galilee, as can be seen so clearly at Galilee Medical Center.
I expressed my gratitude for the SASA Setton Kav Or project, which helps us offer continued education to our hospitalized children, as viewed through the lens of photographer Shahar Azran. At Galilee Medical Center, Ms. Yael Koppel and her dedicated staff work hard to implement this program.
I was also asked by several media reporters about the humanitarian life-saving medical treatment Israel gives to severely wounded Syrians brought to us from an enemy state across the border.
I feel that we created a good relationship with both the French Jewish community and even with several French government officials. I would like to thank all who were responsible for making this visit so successful, especially the World Jewish Congress."