Modern healthcare no longer consists of purely physical treatments as the components of the patient's complete wellbeing gain due place among the necessary elements of healthcare. Currently the Friends of Galilee Medical Center have embarked on a series of projects focused on creating Environments that Support Healing.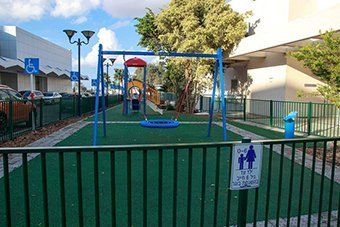 In the past year, Friends of Galilee Medical Center has invested in a new vision to create these rejuvenating spaces, by improving the physical surroundings of the hospital.
To date, these projects include:
A therapeutic garden adjacent to our newly built Rehabilitation Department. This garden grants our patients a beautiful space to work, train and regain their skills outside of a medical setting.
Erected by the Friends, a series of rotating art exhibits have found a new home in the main hall of the hospital. From the work of local artists to a world class exhibit showcasing the humanitarian aid of Israeli physicians, patients and visitors are being treated to a glimpse of Jewish life in Cuba.
Allowing for a brief respite from treatments and the walls of the clinic, the new Oncology Clinic has received a Healing Garden allowing treatment to continue in an open space, surrounded by green. A snack bar with sitting area was added to allow patients and guests a quiet rest within reach of the out-patient clinic.
And finally, after years of waiting, the hospital has launched its first ever safe and fully accessible play space which allows pediatric patients and child visitors an opportunity to be kids. The play space is designed for children of all abilities and needs.
Join the American Friends of Galilee Medical Center in creating comprehensive healing environments at the Hospital by supporting these important projects.