Published by Haaretz
Author: Noa Shpigel – Sept 20, 2020

Overcrowded Coronavirus wards and lack of staff trained in treating severe cases edge this hospital in northern Israel closer to a tipping point, and its director stresses lock-down is not the cure.
On Wednesday afternoon, the emergency room at the Western Galilee Hospital in the northern city of Nahariya may have seemed somewhat sleepy, but head nurse Diana Kalischer tells of a chaotic morning, which reveals a more accurate image of the situation there.
After a few relatively quiet hours, at around 10 A.M. the trauma center took in its first car accident injury, "and then patients started going into respiratory emergency care at a crazy speed." Kalischer lists 14 patients, including an elderly woman rushed in from a nursing home that has experienced an outbreak of the coronavirus.
This alone might be complicated enough for the average person, but while she takes care of patients, Kalischer also has to train the many new staff members who recently joined her department, in a bid to handle the rising number of coronavirus patients requiring hospitalization. "They call it 'corona positions,'" she explains. "It means they have to be trained. An average nurse takes a year to learn how to work properly… Here we have staff that have been here for two weeks."
On Monday, the hospital's director, Prof. Masad Barhoum, announced that he had ordered the institution to stop accepting any more coronavirus patients. The main reason he cited was overcrowding in the hospital's three coronavirus wards, but there's another issue that has to do with the number of trained staff members who can treat patients in serious condition.
"There is no reason whatsoever that I should treat patients in serious condition and on ventilators with inexperienced staff if I can transport them to the center of the country," Prof. Barhoum said then in a statement.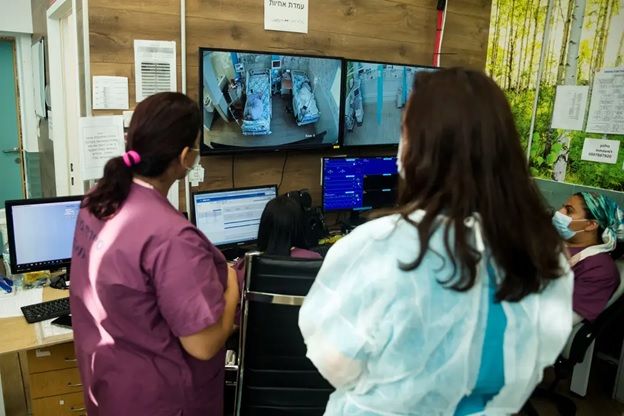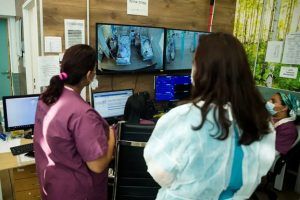 But since then, things have changed. Several patients have been released, some staff returned to work after quarantine, and help came from the Health Ministry, too: Hospitals in Israel's north and in Jerusalem would transfer coronavirus patients to medical centers in other parts of the country, in order to help those in areas with high infection rates. Prof. Barhoum said he was happy to hear of the ministry's "excellent" decision, adding that he was "assessing the situation at all times. The numbers go up and down."
It seems everyone at the hospital is avoiding terminology that in normal times, and even more so during a global pandemic, might stir panic and hysteria. "So far, we haven't reached a tipping point where there are too many patients in intensive care for my staff to handle," Prof. Barhoum says mildly, but warns that "I'm not far from it." According to him, the number of patients in coronavirus wards changes frequently, but "there's no doubt we'll get to 90, with a high proportion of them in serious condition."
At the start of the week, directors of hospitals and coronavirus wards convened a press briefing to warn they are reaching the edge of their ability to withstand overcrowding. According to Prof. Barhoum, the health system "isn't collapsing now because there are enough [hospital] beds in the country." He says that "The north is severely overcrowded, [but] the center isn't. If and when we get to an overcrowded health system, we'll employ teams we'd prepared in advance, even though they're not specialized" in treating coronavirus patients.
Prof. Barhoum adds: "In recent years, there has been investment in hospitals, infrastructure, equipment and workforce. It's not enough, because those investments were supposed to bridge a gap of several decades… We have to let the periphery lift its head up."
Meanwhile, at the E.R., Kalischer explains the complexity the virus has inflicted upon the hospital in general, not only in designated coronavirus wards. "Some get here and don't say they're in quarantine, and you have cases without any symptoms," she says, "that's why the entire team is working with masks and protective gear, so they won't have to self-isolate."
Kalischer has worked here for 17 years, starting as an army officer, but then decided to stay on. She has gone through difficult times, treating many patients from the Syrian civil war and going through the first coronavirus wave, but she says winter "is going to be tough. Cases now are more severe than in the first wave. And there are many new staff members – I've never had these numbers of new staff." Kalischer welcomes the new, highly motivated staff, but says "You also need some experience."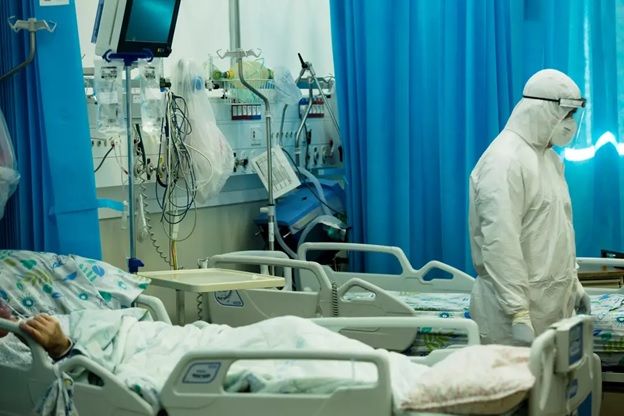 At the headquarters of the hospital's first coronavirus ward, deputy director Dr. Boris Svirsky oversees through a screen the intake of a new patient on life support. After this department, two more opened, and Dr. Svirsky assess a fourth one would follow. "Patients now are younger," he says. "The rate and condition is worse. It needs attention and meticulous monitoring."
Before the virus hit, this department was a geriatric one, but now it takes everyone – last week a 21-year-old man was hospitalized there. Those on ventilators are in Coronavirus Ward 2, and the hospital tries to maintain balance to ensure there are enough intensive care professionals to treat unstable patients.
Why is this hospital struggling more so than others? Dr. Svirsky is careful in his words, but can't ignore the data. "This situation has happened because of the special population we have here," he asserts. "Seventy percent of patients are from the Arab and Druze communities," who he says continue to hold mass weddings in defiance of the government's directives. "Patients say they've been to a wedding," he says. "There's a constant flow of patients in moderate and serious condition."
Despite all, and despite the rise in the number of patients, Prof. Barhoum still remains optimistic. Asked about what he predicts the situation would be in a month, he says: "It won't be bad. Lockdown isn't treatment, but a bitter pill we must swallow so there's treatment afterward. The point is to exit lockdown with an unfaltering strategy. We must give the public clarity. There'll be some decrease, but we have to exit right."