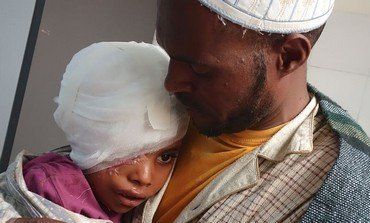 Through international collaboration, eight-year-old Abdulrazak arrived on Monday to Western Galilee Medical Center in Nahariya for treatment. This multi-national cooperation will help treat the boy, who was violently attacked by wild hyenas outside his home in Ethiopia.
Abdulrazak was attacked by a wild hyenas five months ago when the animal entered his small village seriously injuring the young boy's head and face. Fearing for the child's life, Abdulrazak's father brought him to Attat Hospital, a Catholic hospital in Addis Ababa where he has been recovering since the incident. However, due to the limited medical treatments available to the small facility and the lack of sophisticated medical equipment, the doctors and nurses of the local mission hospital are unable to provide the advanced care the child requires.
Currently, Abdulrazak is in dire need of major skin grafting across his head and other surgeries to repair his face before his injuries become consumed by infection.
This international collaboration with the Western Galilee Medical Center was set in action by Dr. Rick Hodes, chief physician of the JDC's medical mission in Ethiopia who introduced the boy's medical case to visiting physicians from the USA. One of the physicians was from the Jewish community in Dallas, Texas, a community connected to the Western Galilee through Partnership2gether of the Jewish Agency for Israel. The Dallas physician got in touch with the American Friends of Western Galilee Hospital and soon his community became involved in the collaborative process with the medical center the JDC, the Israeli Ambassador in Addis Ababa, Belaynesh Zevadia and Ismail Khaldi, a diplomat at the Israeli Embassy in London. All of these connections were drawn upon in a relatively short amount of time simply to save the boy.
Dr. Masad Barhoum, Director General of Western Galilee Medical center Nahariya pointed to the amazing collaboration of the Jewish Federations of North America, the Jewish Agency for Israel (JAFI), the Joint and the Ministry of Foreign Affairs to make this mission successful, I'm proud to be a part of this healthcare system that acts without hesitation to save a life of a child, not just those in Israel but also to provide humanitarian aid internationally when we are able. This shows the unique nature of Israel."
CEO of Friends of the Western Galilee Medical Center, Amir Yarchi, added that the friends' organization took on this important initiative in conjunction with the hospital. The Friends group began fundraising for the mission and continues to raise funds for the duration of treatment that Abdulrazak's will require as well as the housing he will need outside the hospital from donors both in Israel and abroad.In total the funds needed for the treatment and transportation of young Abdulrazak are estimated above $40,000.
If you'd like to make a donation to help this boy, you can donate on our About Us page, or in the sidebar on any page of this website.