By Judy Siegel-Itzkovich
Jerusalem Post
On April 9, 2023
Rachel Kafri, 102, received a new lease on life at the Galilee Medical Center in Nahariya after becoming the patient thought to be the oldest person to ever receive a cardiac pacemaker. This medical device sends electrical pulses to help the heart beat at a normal rate and rhythm.
Kafri, who was a neighbor of Moshe and Ruth Dayan at Moshav Nahalal, has a birth certificate from the time of the British Mandate that was written in three languages: Hebrew, English and  Arabic.
"I don't know how long I will live, but I want to be clear-headed until the end and not suffer," she said.
Prof. Shaul Atar, director of the hospital's cardiology department, noted, "She felt dizzy and unwell. It's been rare to implant a pacemaker in such an elderly person."
"I don't feel that old," Kafri said as she shook hands with Atar. "I have been through so much in my life, but I am probably not ready to say goodbye to the world yet."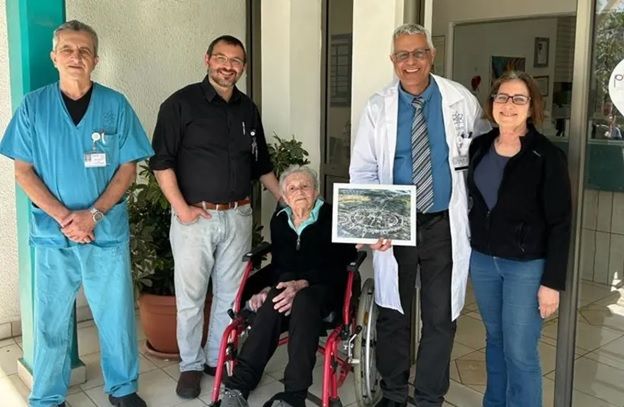 Kafri's daughter Orit Kafri-Cohen added, "Although we had some hesitation because the mother is very elderly, we have known Prof. Atar for many years and trust him. Mother looks fine after the pacemaker implant, happy and spirited as always."
What is her life story?
Rachel was born in Tel Aviv and was taken by her parents to Moshav Nahalal when she was seven months old. The family first lived in a barn, and it took quite some time before they moved into permanent housing.
Kafri lost her first husband, with whom she had two children, in the 1948 War of Independence, after only four years of marriage. She then remarried and had another three children with her second husband, the sculptor Mordechai Kafri.
"I have five children, 14 grandchildren and 30 great-grandchildren, and I remember all of their names," she said with a smile.
Kafri scolded a questioner who asked her age and said, "You don't ask a woman her age," before finally confirming that she is indeed 102 years old. She had no answer to what age she would like to live. She said it does not really matter to her, as long as she is clear-headed and lives as healthy a life as possible.
When asked about the secret of a long life, Kafri said, "Genetics" and then added, "I have worked almost all my life. It is important to be busy and that there is always something to do."
She reads many books and the "Saturday newspapers," adding that she's interested in politics and is up-to-date on everything that happens in the country, including the stormy discussions surrounding the government's proposed judicial overhaul.
"To implant a pacemaker in someone at the age of 102 is complex," Atar said. "Rachel and I met 15 years ago when I treated her at Emek Medical Center in Afula. Before any surgical procedure or invasive operation at this age, or at any age, one should think carefully and calculate the risks.
Rachel, of course, wondered if it was suitable for her to undergo the procedure. I explained that implanting a pacemaker could extend her life and improve its quality, and that the risks were not high. I am happy that it was successful and that she feels well. I wish her many more good years."