On June 26th, Dr. Arie Eisenman, Head of Emergency Medicine at GMC, spoke to the community at the Jewish Community Center of Youngstown. He spoke about his work treating the victims of the war in Syria. Dr. Eisenman talked about the lack of medical staff and infrastructure remaining in Syria, and said that there are likely around 1,000 doctors still living there, and the hospitals no longer have medical equipment or medicine to effectively treat those in need of care.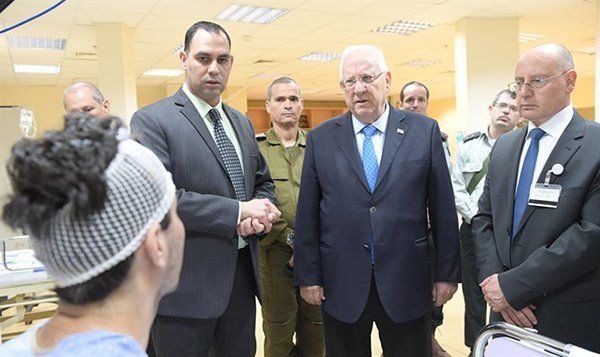 Galilee Medical Center is the closet hospital to the Syrian border, making it accessible to those refugees that are in need of care. Those receiving care are able to be treated anonymously, in order to ensure their safety and security. This type of humanitarian care truly puts the GMC vision of "Person to Person Medicine" into action.
In addition to speaking at the JCC, Dr. Eisenman also visited Louie Free's Vindy Radio Talk Show during his visit to Youngstown. During the interview, he spoke more about the hospital's humanitarian approach to treating patients. Many of the patients that come into the hospital are suffering from wounds acquired through acts of war. They are sometimes infected and require immediate medical treatment. In addition to being treated anonymously, GMC professional staff will not even ask for identification from patients, and will use other systems, such as nicknames and numbers, in order to track patients. "That means you don't really care, and you don't look further, in order to know who you are taking care of," he said.
Dr. Eisenman's visit to the US followed President Rivlin's visit to Galilee Medical Center in April. During this visit he met with the medical staff to discuss the Medical Center's unique role in helping victims of the Syrian war. Israel National News quotes President Rivlin: "Your business is pride…Israeli pride, Jewish pride. It is proof that the world is built on kindness. Israel will continue to do everything it can with responsibility and wisdom, in order to alleviate the suffering of the people who experience daily slaughter here on the other side of the border." President Rivlin also had the opportunity to meet with some of the Syrian victims during this visit. He heard firsthand about the humanitarian efforts of GMC.
Galillee Medical Center Director, Dr. Masoud Barhoum, shared at the recent AIPAC Conference: "The treatment of the wounded Syrians has turned our trauma center into one of the most experienced in Israel, and one of the world leaders in providing care for complex and difficult war casualties, which is a matter of great pride. But it is inconceivable that the Galilee Medical Center bear the burden of the cost of a national project, of a government decision….Together with the Ministry of Health and the Director General, who honored us with his presence, we are working with all the parties to ensure financial coverage of the activity, which costs hundreds of millions of shekels. This funding is crucial."