It is with great pride that we share the news that Galilee Medical Center has been awarded the Joint Commission International (JCI) accreditation. This accreditation is the gold standard in global health care in Israel. During the five day assessment process, JCI examiners reviewed all of Galilee Medical Center's protocols and procedures, and spoke with leadership and staff from all areas to ensure that all of our work is done with the safety and quality standards of the JCI accreditation requirements. 
We are also thrilled to share that for the third consecutive year, Galilee Medical Center has been ranked as a top healthcare fac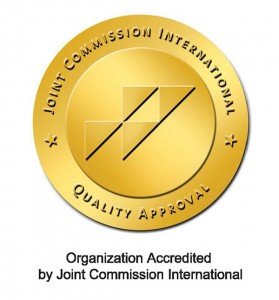 ility, according to the National Quality Indicators Program of the Ministry of Health. The data showed that Galilee Medical Center was ranked as a top medical institution in Israel, based on 17 indicators in a variety of areas measured by the Ministry.
Dr. Barhoum, Director General of Galilee Medical Center, shared his enthusiasm and thanks: "This is the third year in which our medical center has been rated at the top of the rankings. I would like to thank all the doctors, nurses and staff, and especially Dr. Lilach Didi-Shema, our Quality Control Unit Coordinator, and the members of her unit, for working tirelessly with all of our departments, divisions and management to improve the quality of care for our patients. The Ministry of Health's data was published on June 21st, simultaneous with our being awarded international accreditation for excellence, for the safety and quality of our healthcare services by the US-based Joint Commission International, the recognized independent leader in international health care accreditation. This demonstrates our compliance with the most stringent standards for hospitals in the western world regarding quality of care, patient safety and therapeutic environment. These measures show our commitment to continuing to improve our services for the 600,000 residents we serve in northern Israel. "
Dr. Barhoum shared his appreciation for the many hardworking people that work around the clock to this happen, "To all 2,700 employees and 300 volunteers in all the departments, units, institutes and clinics and across all the different sectors: doctors, nursing, paramedical, administrative, maintenance and so on, I want to say I am proud to lead this organization which is committed to the community it serves".